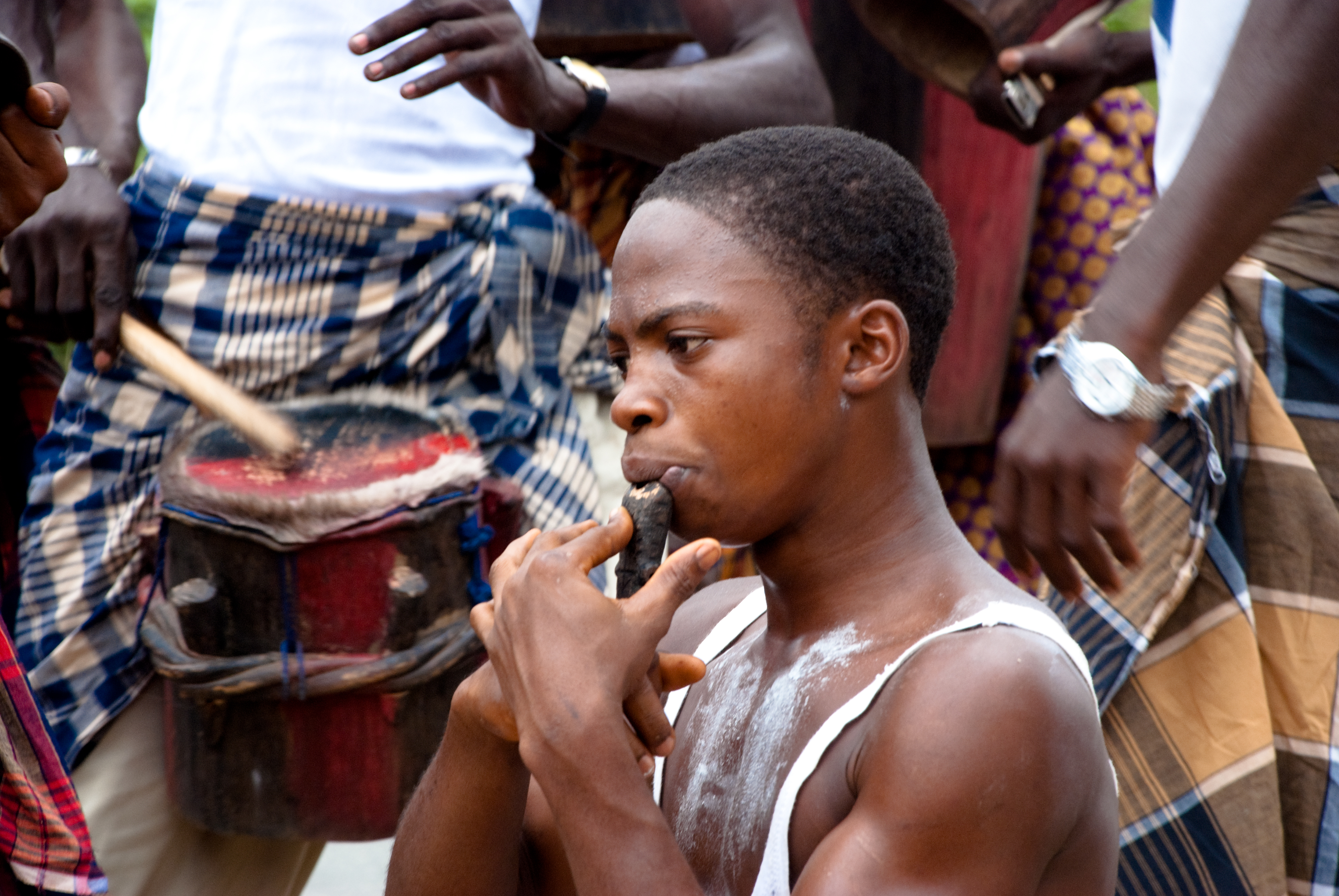 Laments of the Niger Delta
 Introducing the Niger Delta's Agaba masquerade
Long Gallery, 28 Jan 2023 – 7 Jan 2024
"I will gyrate and fire jarrassis"
Behind the hyper-masculine performance of the mask and its links to histories of oil violence, Agaba masking lays bare an emotional human dimension to the everyday lives of Niger Delta youth. The label 'youth' refers to those whose dreams of education and jobs fell short, who hustle for casual work, and whose 'youth' can extend into middle age. Youth unemployment across the region is sometimes known as the Agaba syndrome.  
The improvised and subversive qualities of the mask are best demonstrated in its music. The common vernacular for Agaba songs is pidgin English – a lingua franca that accommodates urban youth of varied local languages. The masquerade is accompanied by the Ogele (metal gong), which gives its name to the music, and the soaring spirit voice of the Oja (wooden flute).  Lyrics are drawn from a range of sources: palm-wine drinking clubs, church hymns, the highlife of Rex Lawson, and prison work songs. Agaba has produced gyration (a musical genre), full of its own jarassis (slang).
Despite the vigorous, noisy and powerful context of the songs' performance, the lyrics are of mutual solidarity and forbearance, of love and loss, of hope and desire, and of humour and satire. Songs about police intimidation, lost girlfriends, thwarted ambitions, and the resilience to keep trying: reveal a critical awareness about their personal insecurities. 'I want to be a student' they sing, 'but I no get biro'. 'I want to marry one girl' they demand, but 'mi mama no gree'. In the face of the precarity of life in Port Harcourt, Agaba boys implore one another to stay strong and to identify themselves as 'rugged to the core'.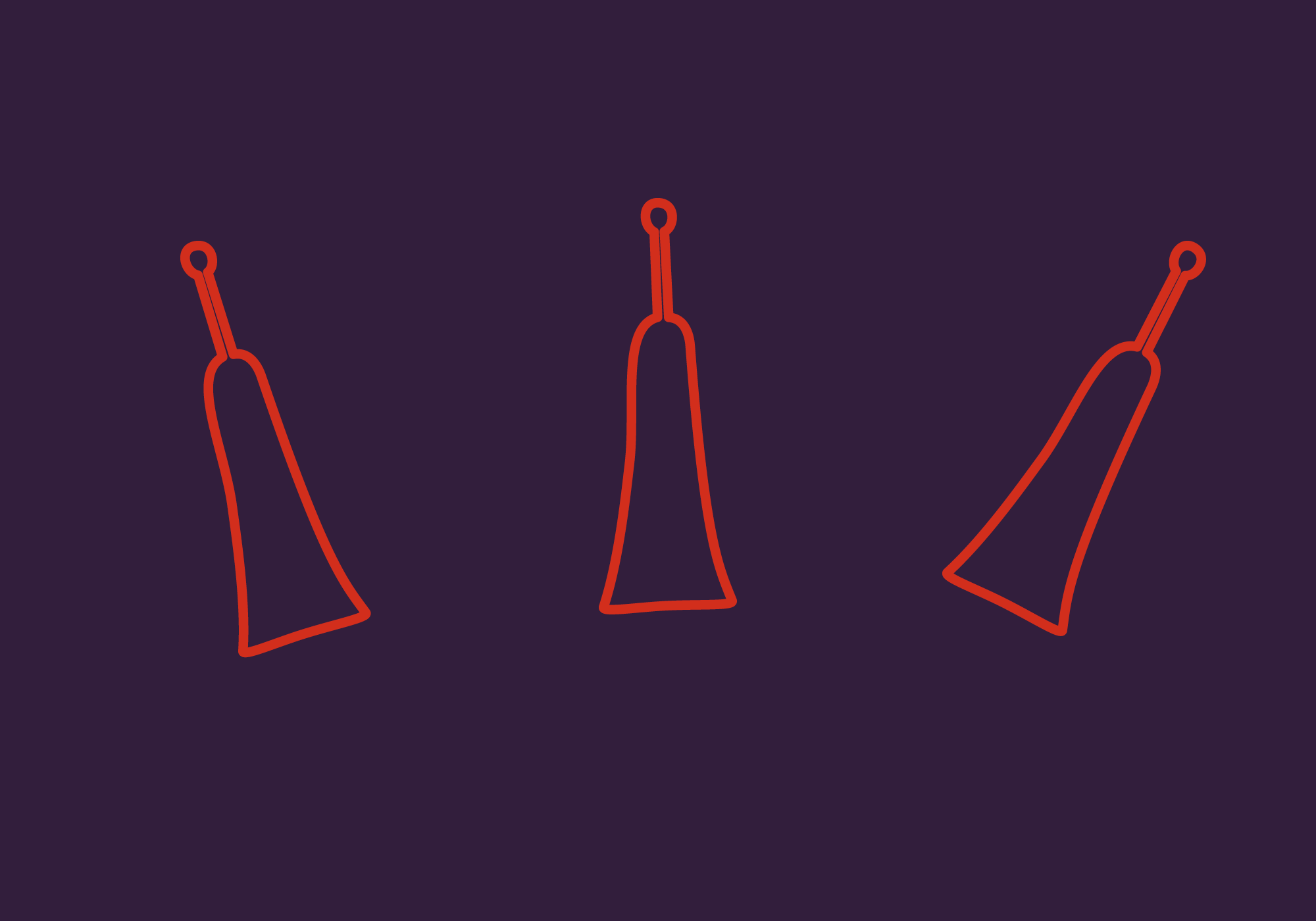 The song chorus of Agaba, popularly known as gyration, has bridged genres over the generations (the Members Club in Port Harcourt, and the palm wine drinking society known as the Kegites are especially strong influences). The music also circulates within commercial and community contexts. The Royal Boys, who performed with Duncan Mighty, known popularly as Port Harcourt's First Son, had success with a series of CD recordings of Agaba songs in the early 2000s. And Agaba masquerades have appeared in contemporary Afrobeats music videos, most famously in Flavour's 'Gbo Gan Gbom' (featuring Phyno and Zoro directed by Clarence Peters).
Find more examples of Ogele and Oja on display in the museum's main gallery
The Ogele (metal gong) and Oja (wooden flute) pictured below are on display in two cases in the main court of the museum's ground floor.
Ogele
The Ogele (sometimes Ogene) is an iron gong. It is has single and double variants, and is played with a wooden stick as percussion for the Agaba masquerade. Like the Agaba mask Ogele has origins in Igbo-speaking communities in Eastern Nigeria. Archaeological evidence suggests that iron smelting and smithing has been a feature of livelihoods around Nsukka and Enugu since 765 BCE. Ogele music was commercialised from the 1970s by groups such as the Coal City boys and 007.
https://www.youtube.com/embed/_TamU0RVb28
Oja
The Oja is a wooden flute or whistle. It is held in both hands and played by blowing across the notched moutpiece. Three finger holes multiply the possible notes and sonic range of the instrument. The smaller flutes produce a higher pitched tone. Ojas provide lyrical melodies in Nigerian masquerade performances accompanying drums and irong gongs. In the Agaba masquerade skilled Oja players channel the masks's spirit. In some Agaba groups trumpets and metal whistles are played instead. POLLY PICTURE
I want to marry one girl
Mi Mama no gree me oh
A beg am, a beg am, I tire
De girl turn to ashawo for Abonnema
If you see Polly, If you see Polly
If you see Polly, tell her say I de look for her
Polly write a letter, Polly put her picture
Polly picture do whatever she for do for me
Polly picture romance me, Polly picture kiss me
Polly picture do whatever she for do for me
Recorded by Parachi
(Ikot Akpa Nkuk, 2004)
https://www.youtube.com/embed/t6vWD_W3vEw
Many Agaba songs lament the loves and losses of young men in the city. These are the lyrics of bad boys with broken hearts. This Agaba boy regrets that Polly, his girlfriend, became an ashawo (sex worker) in Abonnema, a town just outside Port Harcourt. Ashawo is derived from a Yoruba word: other terms, ukpeke and okpongidi, also feature in the songs in reference to women engaged in transactional relationships. Agaba songs often reflect on the inability of poor young men to impress girls and celebrate their ruse of claiming to work for Shell Oil. In some performances Agaba boys dance as ashawo twisting their hips to assume female form in a hyper-masculine moment.
DIS RUGGED LIFE 
O Dis rugged life, I wan fash e ami
Some people rugged, sute kill their life – eh
Notorious BIG follow kill Tupac - oh
Tupac boys dem still dey sail – oh
Some people rugged sute buy Mercedes - oh
As for me I must buy Pafinda
If no Pafinda na warrant I go face – oh
Tupac boys still de sail - oh
Recorded by 'MegaLord' and the Base Boys
(28 July 2012)
'Dis rugged life' refers to the tough and uncertain world of city life. It takes a strong young man to survive and thrive. These rugged men are associated with gangs or cults, the Buccaneers and the Vikings, who employ nautical metaphors in their slang: to 'sail' is to persevere.
The rugged life in this song is compared to the lyrical world of American gangster rap and its icons, Tupac and Notorious B.I.G. Yet, this is not a song of bravado, it anticipates failure and a run-in with the police. Instead of driving a Mercedes Benz - associated with old time politicians - this Agaba boy has his own dream of a pafinda (Nissan Pathfinder jeep). But the song fears that realistically this Agaba boy will end up on a police charge: na warrant I go face.
Judgement Day
Judgement Day is coming
All men will stand before the rule of God
And give account of their lives
You will stand, I will stand
All men will stand, I will stand
Before the truth of God
And make account of their lives
I tell you, oh my brother, excellent,
Oh my sister, excellent,
The time I dey for prison
Who dey give me rice oh?
Who dey give me beans oh?
Chop, I chop, chop alone no good oh
Chop alone, its judgement day!
Recorded by Obony and the Base Boys
(Ikot Akpa Nkuk, December 2007)
Agaba songs are led by gifted 'choirmasters' and sometimes imitate and subvert church hymns. While initiation into the spiritual secrets of Agaba is rejected by churches, Agaba members themselves often attend one of the many denominations where the preaching of deliverance dominates. 'My Lord who deliver Paul and Silas' they sing, 'He will surely deliver me'.
'Judgement Day' reminds Agaba members of the importance of solidarity and support. This is a common refrain, a moral code rehearsed in song. It stresses the moral imperative to share and the immorality of selfishness. The expression 'chop alone, die alone' means that if you eat alone, without sharing, no one will help in your hour of need, or attend your burial. It reminds the Agaba boy that the group is a social network of friendship as well as material support.
No Cocktail
No cocktail, no cocktail oh
No cocktail, Na bad drug oh
Na for Issaka somebody tell me say 
Make I no dey like cocktail oh
After dem tell me 
I still go buy gold line am
I tink say na heaven I dey oh
A me no know say na my money dey burn so
I tink say na heaven I dey
Abonnema Wharf boys na dem be my drug pushers
Anywhere dey must find and reach oh
Elechi boys oh na dem be my drug pushers
Anywhere dey must find and reach 
Fit na to swear, me I go swear say - eh
Dat cocktail for stress my life oh
Babo cocktail!
Recorded by Parachi
(Ikot Akpa Nkuk, 2004)
 
The cocktail of this song is a reference to drugs, especially cocaine. In some Nigerian cities the drugs' trade has been run by Agaba groups. The popular neighbourhood of Colombia in Port Harcourt, where many Agaba members live, is named after its association with drug dealing. In recent years the non-medical use of tramadol has risen across West Africa. Use of this opioid painkiller has been most prevalent amongst young men in cities pursuing precarious livelihoods.
The locations in Port Harcourt named in this song, Abonnema Wharf and Elechi, refer to so-called ''waterside' informal settlements. Built on land reclaimed from the creeks surrounding the city, the watersides are busy thriving communities. But they lack basic amenities and security.