Mo'olelo of the Ahupuaʻa tells the various stories of living, working, playing and learning within a sustainable landscape.
These are themes within the epic Hawaiian myth Hiʻiakaikapoliopele, which Hawaiian artist Solomon Enos depicts in this series of paintings. The heroine Hiʻiaka is on a quest that takes her throughout the various landscapes and worlds of the islands. On the way she encounters an underground hidden world of shape-shifting insect/arachnid-people, who invite her to share their plentiful resources.
The seven paintings that feature in this new display are from a wider series, following from a previous display which highlighted the Hawaiian tradition of mo'olelo, a way of storing and sharing Hawaiian cultural memory that guides future generations in understanding the world. In each painting the artist re-imagines this hidden world, creating an entomological character based on a Hawaiian species. Like these species, each has an important role to play in this eco-system and has the relevant clothing and implements. This display draws on the theme the Ahupuaʻa - a traditional Hawaiian land division that runs from the mountain tops to the sea embracing the ecosystems within, and introduces further characters from Solomon Enos' imagining of the Hiʻiakaikapoliopele. Inspired by collections stewarded by the Museum, Enos re-energises the artefacts to:
begin an exploration into Hawaiian culture through a fanciful voyage into my ancestors' imaginations.
 Objects are displayed in conversation with the paintings reflecting their relationship with the wider material culture of Hawaii.
The Hawaiian tradition of mo'olelo is constituted of different types of recounted knowledge including history, myth and legend. The paintings, alongside Enos' accompanying narrative, simultaneously blend history, culture, and ecology with the fanciful, highlighting the intertwinement of cultural and biological eco-systems. The display also reflects Enos' use of Instagram posts to share his work whilst creating these paintings, evolving mo'olelo, as he says, 'continuing the work of his ancestors in a different medium.'
Encounter characters of the Hiʻiakaikapoliopele on a journey from the mountain tops to the ocean...
Traverse the mauka (uplands) with The Teacher, farm the kula (plains) with The Transporter,
until you meet The Paddler in the makai (sea).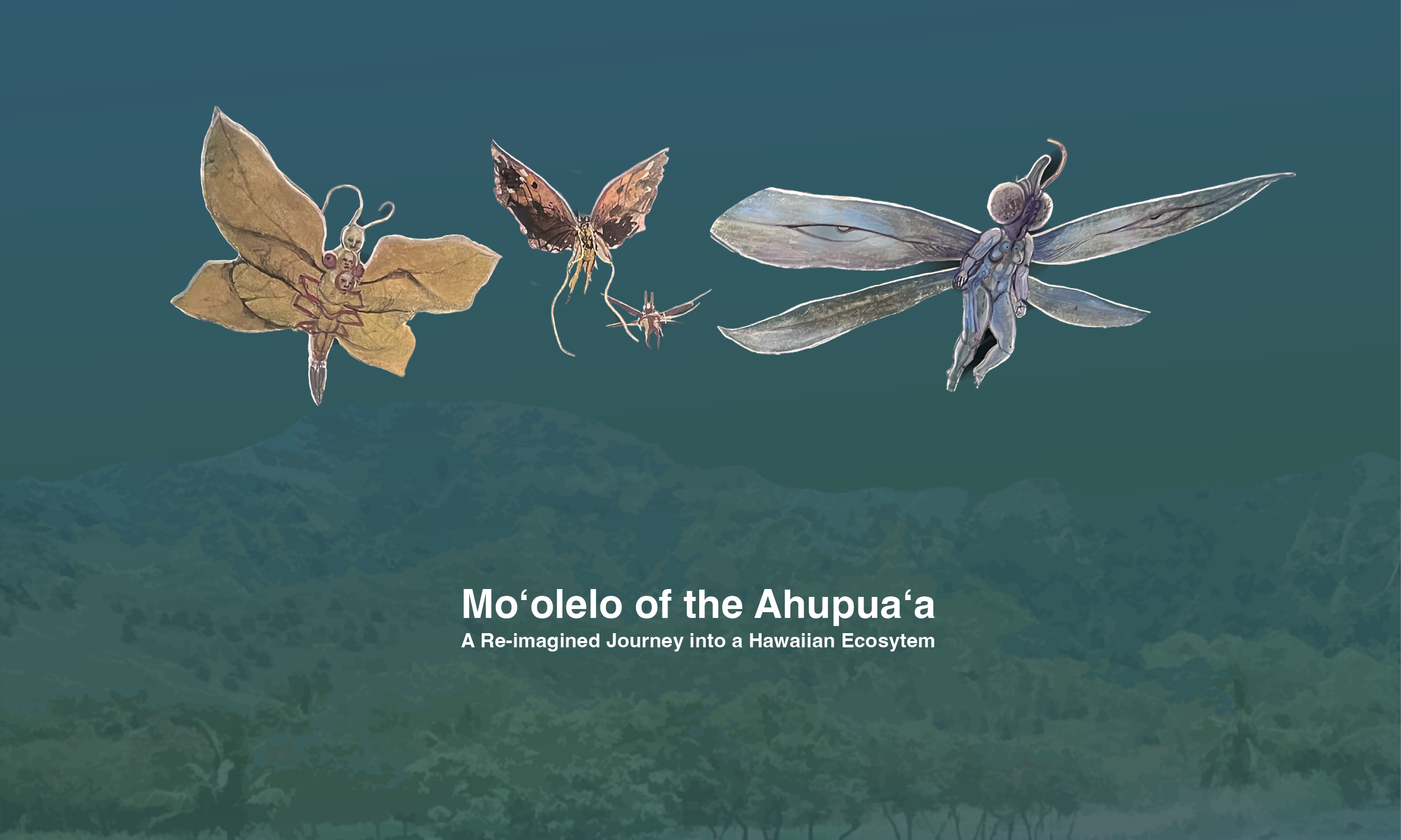 The Teacher
Koa long-horned woodborer, Plagithmysus varians (Status: Critically Imperiled)
Here we have a kumu (teacher) heading into the uplands with a hōlua sled over her shoulder that is not too big for her haumana (students), yet big enough for her to demonstrate the art of heʻe hōlua (sled surfing). Eventually, our kumu will introduce her haumana to a full sized hōlua, and she will take them up even further and closer to the world-ceiling of their subterranean realm. From these heights there exist hōlua ramps that travel down the mountain-pillars for many miles, and these ramps have been maintained for countless generations. To reach these elevations, even her winged students will need to walk most of the distance, due to the fierce winds and blinding mists that intensify a few hundred feet up the ascending paths. Thus, even for those who are capable and proficient at flying across the lowland plains, they are just as susceptible to dangerous crashes as their wingless peers.
The Gatherer 
Koa Butterfly, Udara blackburni (Status: Secure)
The rich bounty of natural resources that form the living systems on this subterranean macro-island provides everything that the insect-arachnid peoples need to thrive, with little and few conflicts over shared resources. As flora and fauna fall, migrate or are brought from each Hawaiian Islands on the surface: they have evolved to thrive on the silvery light generated by the ionized clouds of the under-atmosphere. Here is one of many gatherers who spends her time seeking and harvesting a range of materials such as food, flowers, nectar, medicinal plants, dye making and carving materials, and anything else her community needs.
Her iridescent wings, strengthened by many years of gathering, can fly with nearly thrice her weight of cargo, but as she weighs very little this is a slightly modest yet considerable weight.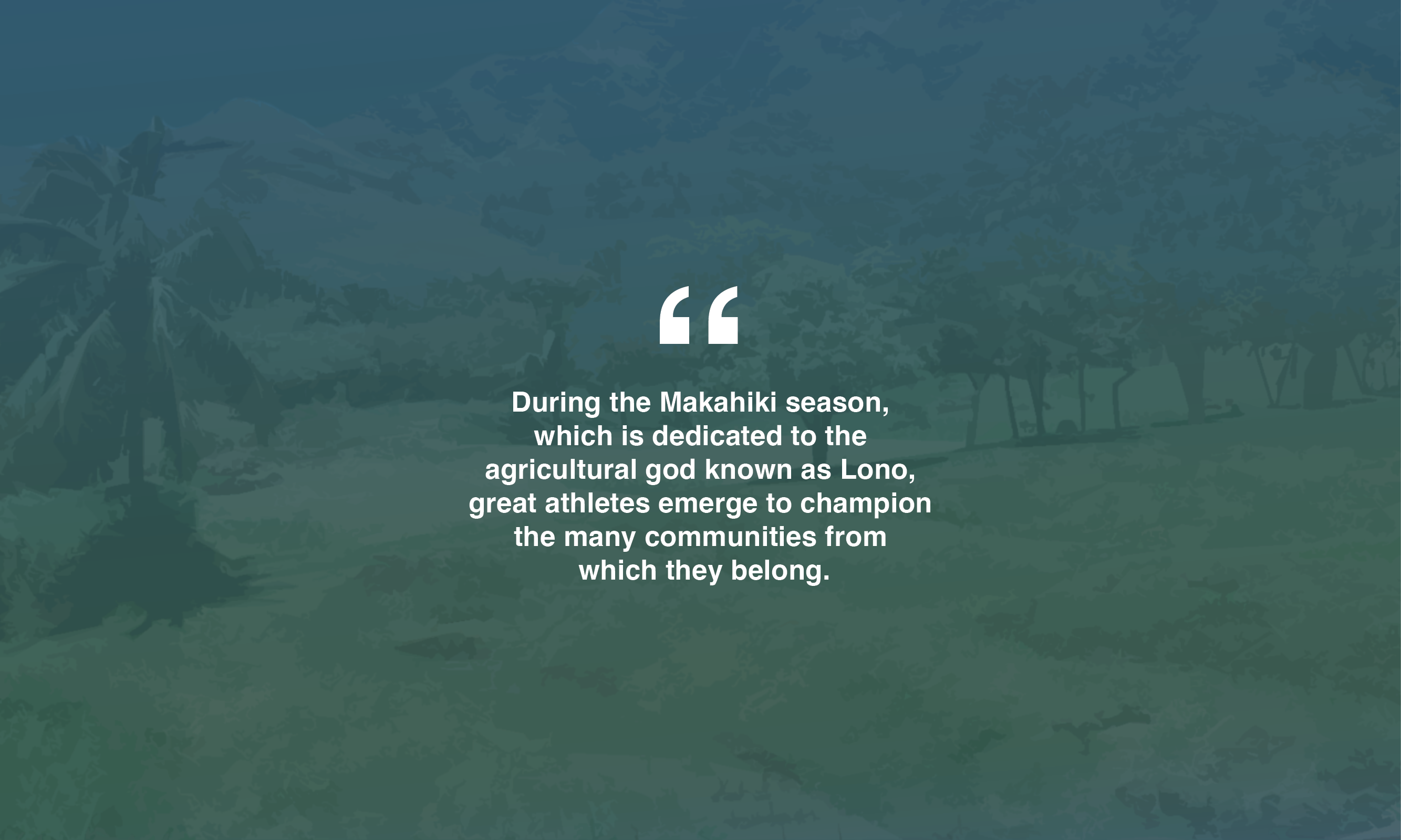 The Spear Catcher
Oceanic Hawaiian damselfly, Megalagrion oceanicum (Status: Imperiled)
During the latter part of the year, when the silvery light of the clouds that shroud the world-ceiling and provide life giving energy to this world below the Hawaiian Islands, a season of harvest and games called the Makahiki is celebrated. During the Makahiki season, which is dedicated to the agricultural god known as Lono, great athletes emerge to champion the many communities from which they belong. Here is a spear catcher in the act of dodging and gathering spears out of the air as they sail towards her. During this time any real conflict that was ongoing before the season of Makahiki is converted into forms of sport, and all conventional warfare must cease for the 2 months of this season. And in the case of this spear catcher, her community had been feuding over fishing rights with a neighbouring community and though this issue has been mostly bloodless, the risk is high that a larger conflict may arise. If she is successful in the role as a champion for her community, the reward gained will be temporary peace, at least for another year.
The Transporter
Hawaiian Ambrosia Beetle, Xyleborus molokaienesis (Status: unknown)
A farmer employs an 'auamo (carrying stick) to convey a harvest of 'uala (sweet potato) to be traded. At his side he carries a water gourd that is instead being used to hold nectar. He pauses to lecture two young pupa who are playing dangerously near an abyssal cliff edge.
The Mat-Maker
Hawaiian picture-wing fly, Drosophila hawaiiensis (Status: Critically Imperiled)
Having gathered, cleaned and prepped the fallen leaves of a hala tree (pandanus), this lauhala weaver travels from his home to meet the rest of his fellow mat-makers. At his side is a roll of cured hala leaves, under an arm he carries strips of hala ready to be woven, and on his shoulder is his most comfortable lauhala mat, upon which he will spend the day weaving and catching up with the complicated interspecies politics of insects and arachnids.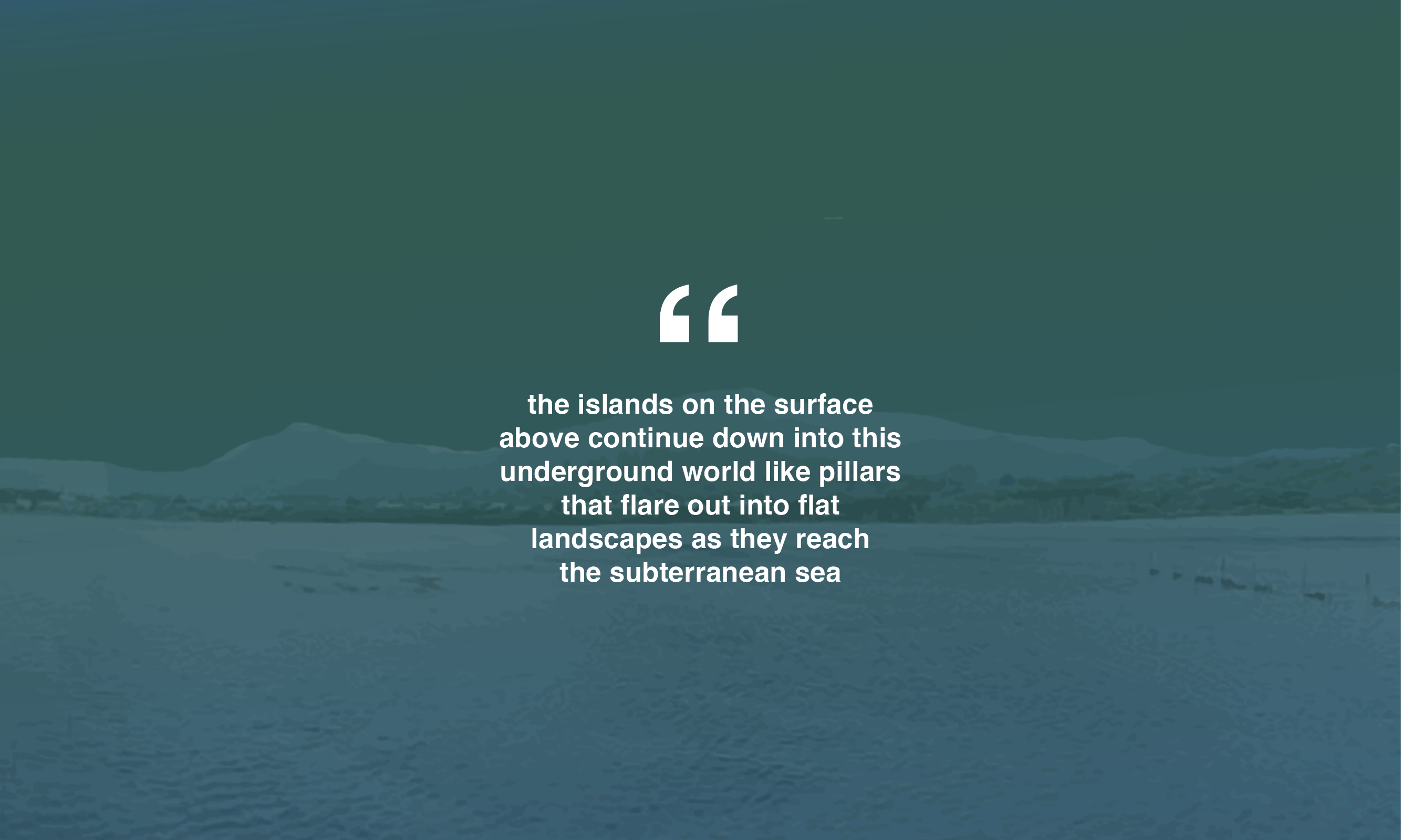 The Ocean Feeder
Kauai flightless stag beetle, Apterocyclus honoluluensis (Status: Imperiled)
A Fisherman returns from having harvested his area of the subterranean sea, and as it is customary to do, he offers a few freshly caught 'opelu (mackerel) to families who greet the canoes upon return. For many weeks prior, the 'opelu fishermen would feed their allotted patch of ocean with grated sweet potato and taro. Then, when the 'opelu learned to gather and wait for this weekly offering, down would go the net first, followed by the 'opelu's last meal.
The Paddler
Local name unknown, Engytatus henryi (Status: unknown, new species)
A subterranean ocean voyager makes her way to the waʻa (canoe) that she will help to paddle, along with a few members of her community. Geologically, the islands on the surface above continue down into this underground world like pillars that flare out into flat landscapes as they reach the subterranean sea. Effectively, a single landmass has been formed out of the individual islands above, and great torrents of brackish water cascades down from the perennially mist- shrouded world-ceiling, and into countless inland estuaries. And so, with a paddle (hoi) over her shoulder, our paddler will need to travel as a part of a team through a maze of craggy and misty environments where a sail would be very impractical.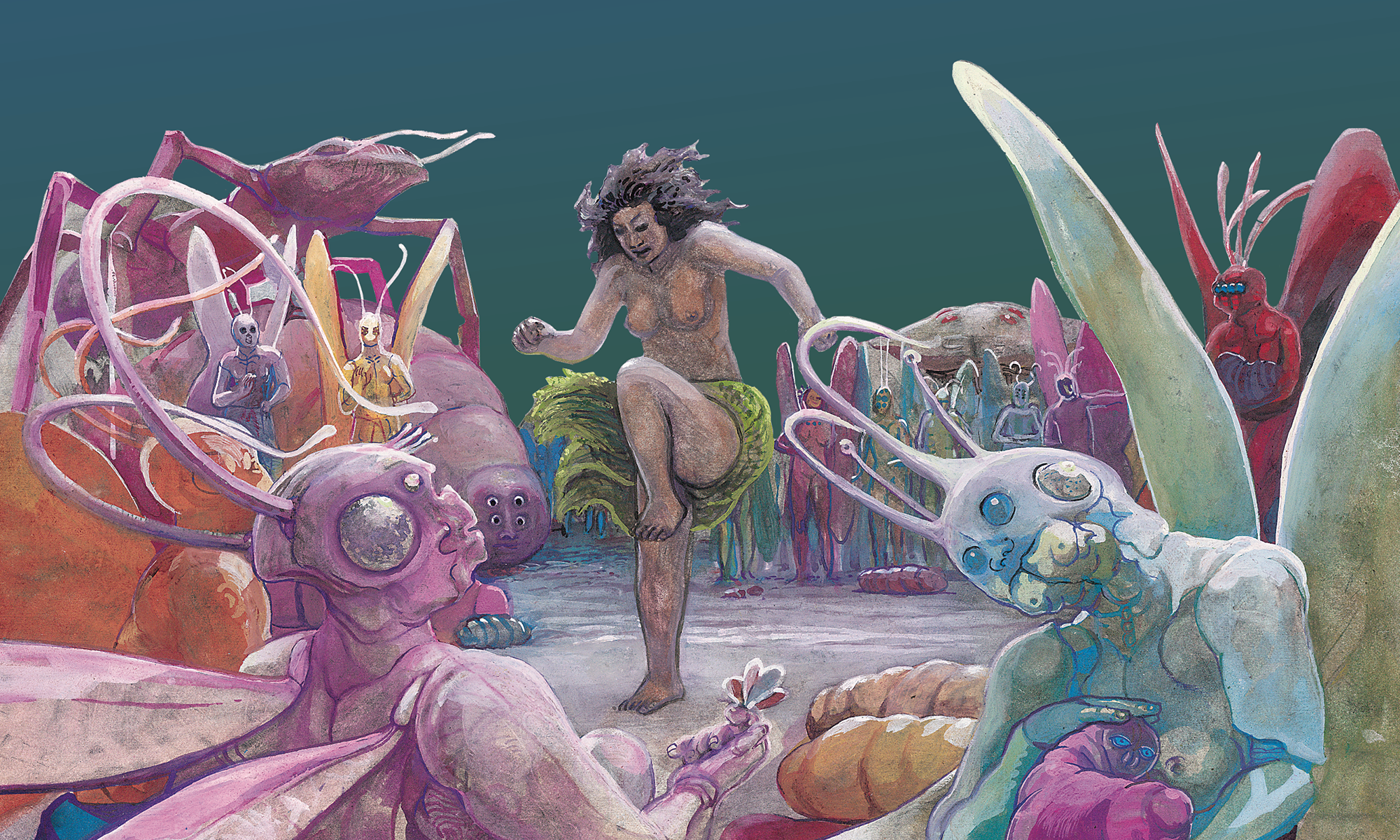 Acknowledgements and Credits
Exhibition curated by Marenka Thompson-Odlum in collaboration with Solomon Enos
Conservation by Andrew Hughes, Jennifer Mitchell and Jeremy Uden
Photography by Henrietta Clare
Print design and installation by Alan Cooke and Josh Rose
Supported by the Art Fund
You are able to visit the personal website of artist Solomon Enos online here (Solomon Enos).